Facebook tracking now under federal investigation
(Read article summary)
Facebook tracking triggers another round of criticism for the social network. This time, the FTC is offering the company a settlement over a legal complaint, while a Senate committee starts to ask: is Facebook tracking both users and non-users?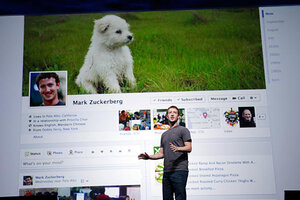 Paul Sakuma/AP/FILE
Facebook tracking has become a perennial privacy issue, but this time, the US Federal Trade Commission is involved.
Last week, the FTC offered the social-network giant a settlement over a complaint that it had harmed users by changing privacy settings without warning. Under the settlement, Facebook would have to receive explicit permission from users before it shares any data collected under new terms – in essence, a repudiation of its hitherto standard of "opt-out" privacy changes. Now, users will need to "opt-in" to new changes.
The FTC first began investigating Facebook back in December 2009, after the Electronic Privacy Information Center (EPIC), a consumer advocacy group, complained that Facebook had harmed its users by changing privacy settings in a way that encouraged them to reveal their names, photos, gender, and other personal information.
Many Facebook denizens will remember this part of the story: in the process of rolling out an update that year, Facebook made a number of changes to its privacy settings. By default, users were automatically opted in to these new settings, which in most cases loosened restrictions on how widely personal data was shared. Everybody had the option to opt out – but in practical terms, the menus to do so were often buried deep in a confusing maze of privacy settings. EPIC complained that Facebook users weren't given adequate notice of the changes.
---