Nook tablet launches a day ahead of schedule
(Read article summary)
The Nook tablet is here. But how does the Nook hold up against the new Kindle Fire?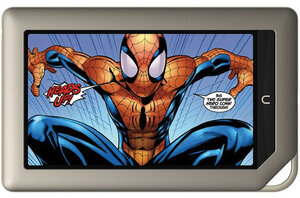 Barnes and Noble
The Nook Tablet, the latest gadget from Barnes and Noble, was expected to arrive on Friday. But according to a Barnes and Noble spokesperson, who spoke to CNET, the Nook Tablet will hit shelves a couple days early. If you pre-ordered a Nook Tablet, you can pick up the device today at a Barnes and Noble store; if you scheduled home delivery, your new Nook will likely hit your doorstep by this afternoon.
The Nook Tablet has received generally favorably reviews from tech critics, who have praised the low price, the "beefed-up horsepower," the e-reading capability, and the sleek design.
"There's little doubt that the Nook Tablet is the best looking 7-inch slate on the market," note the team at Laptop magazine. "Sitting next to the Nook Tablet, the otherwise-attractive Kindle Fire looks like a chunky hunk of glossy plastic. Its thin pewter-colored frame, black-edged screen, rounded edges, and soft-touch rubberized back give the device a luxurious look and feel."
---