SOPA fight over 'Internet censorship' attracts Yahoo, Google
(Read article summary)
SOPA "jeopardizes" Internet business, claim Twitter, Google, Yahoo and others. The SOPA bill amounts to "Internet censorship," some argue.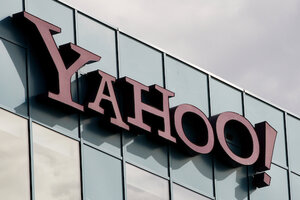 Reuters
Late last month, Lamar Smith, a Republican representative from Texas, introduced a bill called SOPA (the Stop Online Piracy act), which was intended to crack down on intellectual property theft, and put up barriers against what Smith termed "rogue" sites.
"[T]he problem of rogue Web sites is real, immediate and widespread. It harms all sectors of the economy," Smith said, according to the Washington Post.
(For what it's wroth, the SOPA bill in the House has a similar counterpart in the Senate called the PROTECT IP Act.)
RELATED: Top 9 ways Internet access can save you money
Over at Information Week, Paul McDougall offers up a run-down of five key provisions of the bill, which include the blocking of sites that provide copyrighted content – the Pirate Bay, for instance – and the targeting of websites that attempt to sell pharmaceuticals to individuals without prescriptions. McDougall quotes Pfizer security officer John Clark, who says "pharmaceutical counterfeiting is first and foremost an issue of patient health and safety."
---
Follow Stories Like This
Get the Monitor stories you care about delivered to your inbox.