Kindle Fire: Pelted with complaints, Amazon pledges software update
(Read article summary)
Amazon has promised to issue a software update for its Kindle Fire tablet. Is this the fix that Kindle Fire owners have been waiting for?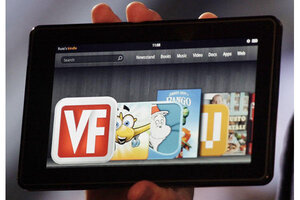 File
Just a few weeks after the launch of the Kindle Fire, Amazon has been pelted by complaints from disgruntled consumers, who have fretted over everything from browsing speed to the placement of the "off" switch to the external volume controls. (Don't even ask about the Fat Finger Fire Problem.) In response, Amazon reps announced today they would release a new software update, intended to "improve performance" on the Fire.
"Kindle Fire is the most successful product we've ever launched," Amazon told the AFP. "As with all of our products, we continue to make them better for customers with regular software updates. In fact, in less than two weeks, we're rolling out an over-the-air update to Kindle Fire that will improve performance, touch navigation, and give customers the option to choose what items display on the carousel."
It's hard to know what to make of this "Firestorm," as it has been dubbed by some bloggers – it could be the same jitters that plague every new device (hello, Apple iPhone "death grip"), or it could something entirely legit. Certainly, as evidenced by this piece over at PC World, and this one over at the New York Times, the alleged problems go beyond minor-league quirks and bugs.
---