SOPA vote delayed in House
(Read article summary)
Action on SOPA, the House bill aimed at stopping online piracy, has been delayed. The House Judiciary Committee could vote on SOPA as early as Wednesday.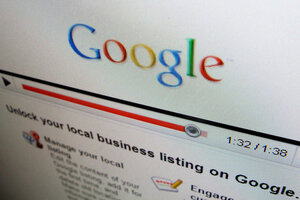 Reuters
When we last checked in with SOPA, the bill aimed at curtailing online piracy, it was catching flak from op-ed writers and newspaper editorial boards alike. The bill's detractors, including some of the world's largest Internet companies (Google, Twitter, and Facebook among them) were decrying that the provision would create major, damaging changes in the Internet's underlying technology in the name of stopping copyright infringement.
Now, after two long days of debate, the House Judiciary Committee has postponed a vote on SOPA.
According to Reuters, the SOPA discussion came to an "abrupt end" when Congress was forced to "turn its attention to a floor vote on a nearly $1 trillion spending bill that would avert a government shutdown." Not that the bill is dead in the water: Lawmakers are slated to take up the SOPA measure again when Congress reconvenes, possibly as soon as Wednesday.
---