Ultrabooks set to steal the show at CES
(Read article summary)
Ultrabooks – slim, portable high-powered notebooks – are expected to soak up the limelight at CES 2012.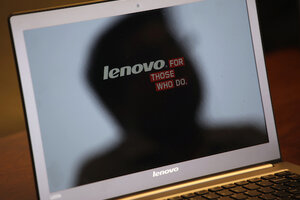 Reuters
First it was laptops. Then it was netbooks. Then it was tablets.
Now it is "ultrabooks" – a term introduced and trademarked by Intel to describe a slim, portable, high-powered PC. (In a nice analysis of the ultrabook, Ina Fried of All Things Digital jokes that she has another name for the devices. "I call them laptops," she writes.) And according to an array of reports from tech analysts, ultrabooks are set to dominate the show at this year's CES, an annual technology gala staged in Las Vegas.
Among the ultrabooks expected to be unveiled at CES are models from manufacturers such as Toshiba, Dell, Acer, Asus, and HP. Still confused about the actual purpose of an ultrabook?
Think the MacBook Air, running Windows. Think small, light, and powerful.
So how will the ultrabooks end up performing on the electronics market? Over at Computerworld, Barbara Krasnoff advises a wait-and-see attitude.
---