At CES 2012, Motorola introduces Droid 4 and Droid Razr Maxx
(Read article summary)
The Droid 4 and Droid Razr Maxx are expected to hit shelves early this year, but here's a taste from CES 2012.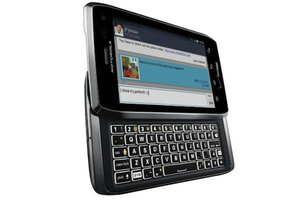 Reuters
Motorola yesterday introduced the Droid 4, the latest handset in Verizon's popular Droid line. According to CES previews, the new smart phone sports "the greatest Android keyboard slider yet." The Droid 4 keeps the chiseled lines and QWERTY keyboard introduced on the Droid 3, and adds a 1.2GHz dual-core processor. The Droid 4, however, sticks to the older Android 2.3 Gingerbread OS.
Other niceties? An 8-megapixel camera, a backlight feature for the keyboard, and 1GB of RAM. Over at PC World, Armando Rodriguez got an early look at the Droid 4, and he likes what he sees (sort of).
"The thing that struck me most about the Droid 4 was how similar it looked to the Droid Razr," Rodriguez wrote. "But, while the Droid 4 may look similar to the Razr, it isn't nearly as sleek. The Droid 4 felt chunkier than the Droid 3, though its curved edges made it easy to hold. All the buttons on the phone were flush with the rest of the device, which makes it look good – but it also made the buttons a bit difficult to push."
---