Netflix CEO forecasts steady decline in DVD subscribers
(Read article summary)
Netflix will focus its energy on streaming video and unique content, Netflix CEO Reed Hastings said this week.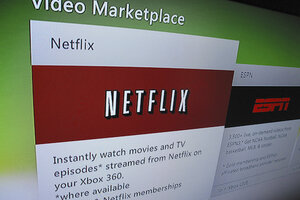 Reuters
Call it the long goodbye.
On Wednesday, Netflix CEO Reed Hastings said his company expected the number of Netflix DVD subscribers to "decline steadily for every quarter, forever," as more users turn to streaming video. Hastings, who was speaking to reporters during a conference call, hastened to add that Netflix would keep the DVD portion of its business "stable," and "very high functioning," at least for the foreseeable future.
In the meantime, according to All Things D, Netflix will bulk up its selection of streaming video, and continue to add new unique online content, such as the forthcoming series "House of Cards." In other words, as Peter Kafka of All Things D notes, Netflix will become "a premium cable channel that gives subscribers lots of viewing choices – including some stuff they can't see anywhere else – but not unlimited choices."
---