Samsung Galaxy S III: Can 'the best Android' phone pull off a sequel?
(Read article summary)
The Samsung Galaxy S III will launch later this year, Samsung reps said in a statement.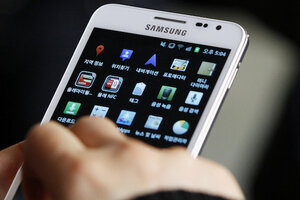 Reuters
In February of last year, Samsung released the Galaxy S II, a handset armed with the Android Gingerbread OS, a 1.2 GHz dual-core chip, and a 4.3-inch Super AMOLED screen. Critics loved it. Writing in Engadget, Vlad Savov identified the Galaxy S II as "the best Android smartphone yet." More important, Savov added, "it might well be the best smartphone, period."
Now comes news that the Samsung Galaxy S III will be released later this year – not at the Mobile World Congress, as had originally been rumored, but at a corporate event staged by Samsung.
---