Eric Schmidt: Google hoping for an Android 'in every pocket'
(Read article summary)
Android activations now total 850,000 a day, Google chairmen Eric Schmidt said Tuesday at Mobile World Congress.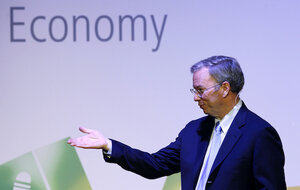 Reuters
Google chairmen Eric Schmidt says 2012 will be the year of the Android.
Speaking at the Mobile World Congress in Barcelona, Schmidt told attendees that Google was now activating 850,000 Android handsets a day – so fast, Schmidt joked, that "we'll need to produce more people soon." Schmidt added that "if Google gets it right, there will be an Android in every pocket, according to Ingrid Lunden of TechCrunch, who was on hand for the event.
As recently as December, Google was activating 700,000 Android devices a day, up from half a million in June and 400,000 in May. At some point, of course, the number of activations is going to hit a terminal velocity. So what happens then? Well, Schmidt said, manufacturers will produce cheaper devices, in an attempt to open up whole new markets.
---