Apple CEO Tim Cook: Tablet hybrids don't stand a chance
(Read article summary)
Apple CEO Tim Cook said in a conference call this week that hybrid laptop/tablets would not please anyone.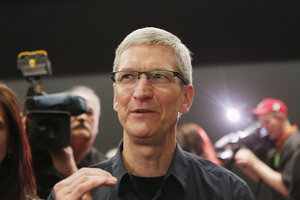 Reuters/FILE
Earlier this month, at an event in Beijing, Intel took the wraps off the "Letexo," a kind of tablet/ultrabook hybrid. According to The Verge, which first picked up on the story, the Letexo can be used like a standard tablet – or, with the help of a slide-out kickstand and keyboard, like a regular old laptop. Presumably the market here is folks who want the portability and intuitiveness of a tablet, twinned with the more practical functionality of a real keyboard.
So is this the future of the tablet market? Microsoft certainly seems to think so. This year, the software giant will release Windows 8, a new OS compatible with both tablets and laptops. As Paul McDougall of Information Week has pointed out, a range of "laptop-tablet convertibles" are already poised to take advantage of Windows 8, among them the Fujitsu Lifebook, the HP EliteBook, and Dell Inspiron Duo.
But Tim Cook, the CEO of Apple, isn't so sure. In a conference call this week, Cook pooh-poohed the idea of these hybrid devices, arguing that "the problem is that the products are about tradeoffs. You begin to make tradeoffs to the point where what you have left at the end of the day doesn't please anyone," Cook said. And in a partial transcript provided by Apple Insider, Cook went one step further.
---