Facebook unveils organ-donor status option
(Read article summary)
Facebook now lets you announce whether you're an organ donor. It's not a substitute for registering in your state, but donor advocacy groups hope more people will become donors once they see their Facebook friends doing it.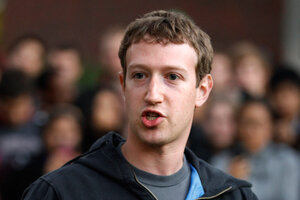 Steven Senne/AP/File photo
Facebook teased Monday that it was working on a feature that had "the power to save lives." Now they've taken the wraps off a new feature that, while slightly unusual, certainly makes good on that promise: an organ-donor status option. Facebook announced the move Tuesday morning, adding that it's designed to shorten or eliminate organ-transplant waiting lists.
Facebook users in the US and UK can now choose to indicate that they're organ donors, as well as specify which state they're registered in, post a message explaining why they became a donor, and give the date they registered in their state.
A Facebook status isn't a substitute for traditional consent (don't worry -- a doctor couldn't harvest a patient's organs after checking their Facebook profile). But the status option is designed to spread awareness among other Facebook users, as well as to let family members know about one's status in case they ever need to give consent. Facebook also provides a link to state organ donation registries, for those who want to be donors but didn't sign up when they got their driver's license.
---