Google finally (officially) buys Motorola Mobility. Now what?
(Read article summary)
Motorola Mobility now officially belongs to Google, CEO Larry Page announced this week.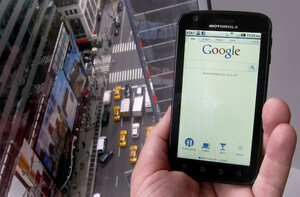 Reuters
Back in February, European antitrust regulators and the US government gave the OK to Google's $12.5 million acquisition of Motorola Mobility, a cell phone and electronics maker. Today comes word, via CEO Larry Page, that Google has finalized the terms of the agreement – meaning, as several analysts have pointed out, that the search giant is now officially in the hardware game.
"It's a well known fact that people tend to overestimate the impact technology will have in the short term, but underestimate its significance in the longer term," Page wrote on the Google blog. "Many users coming online today may never use a desktop machine, and the impact of that transition will be profound--as will the ability to just tap and pay with your phone. That's why it's a great time to be in the mobile business."
---