Google releases data on piracy, takes copyright infringement pretty seriously
(Read article summary)
Ever wondered what Google does when copyright holders complain their work is being pirated? Now we know. On Thursday, Google released a huge amount of data on how it responds to copyright-related takedown requests.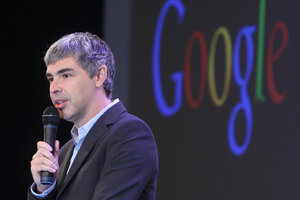 Seth Wenig/AP
We've already gotten a detailed look into Google's response to government requests for personal data -- but it turns out the search-engine giant spends a lot of time protecting intellectual property, as well. Each month, Google removes more than 1 million links to content that infringes on copyright, including music, movies, and software. That's just one of the surprises from the data Google released on Thursday, which details the copyright notices it receives via its online takedown request form.
Since 1998, the Digital Millennium Copyright Act (DMCA) has required search engines to remove links to infringing content at the request of the copyright holder; if the search engine refuses, they may themselves be liable for the copyright infringement.
This is the first time a major search engine has made public the data on its response to takedown notices, and the data could have a big impact on the political scene. As politicans debate Internet legislation such as the Cyber Intelligence Sharing and Protection Act -- a kind of cousin to last year's twin SOPA and PIPA online piracy bills -- they'll have the benefit of a clearer picture of how existing copyright protection measures are being implemented.
For its part, Google says it complies with 97 percent of the DMCA takedown requests it receives, and boasts an average turnaround time of 10 hours between the submission of a valid takedown notice and removal of the offending link. (Google's FAQ notes that it does receive clearly frivolous takedown requests from time to time -- such as a movie studio requesting the removal of a movie review from a major newspaper's web site).
---