Microsoft Surface: Can a Windows 8 tablet compete?
(Read article summary)
On Monday, Microsoft took the wraps off a new tablet called the Surface. Here's a quick primer.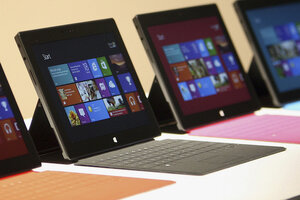 Reuters
Yesterday, we wondered what kind of device Microsoft would introduce at the much ballyhooed press conference in Los Angeles. Now, we have the answer: A Windows 8 tablet called the Surface. As the Wall Street Journal notes, the Surface and the Apple iPad are roughly the same size and shape – the iPad weighs approximately a pound and a half, and so does the entry-level Surface (although a more deluxe model may weigh closer to 2 lbs).
Meanwhile, the Surface will be equipped with a 10.6-inch screen, compared to the 9.7-inch display on the iPad. Both devices pack front- and back-facing cameras and both are pretty thin. The difference, of course, is what's inside: Unlike the iPad, which runs Apple's mobile operating system, the Surface will run the forthcoming Windows 8. (Windows 8, Horizons readers will remember, is still in beta.)
---