Nexus 7: Under the hood of the latest (and greatest?) Android tablet
(Read article summary)
Google unveiled the Nexus 7 – a 7-inch, $199 tablet – at its I/O conference on Wednesday. Its size and price are similar to those of Amazon's popular tablet -- but the Nexus 7 has a few features that set it apart from the Kindle Fire.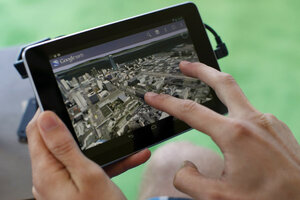 Stephen Lam/Reuters
Let's face it: when it comes to tablets, there's the high-end iPad and the mass-market Kindle Fire -- and then there's everything else. But Google thinks it has something special: at its I/O developers conference, the company showed off its home-grown Nexus 7 tablet, a 7-inch, $199 tablet aimed pretty squarely at the Fire's niche as a content consumption device.
The Nexus 7 will be one of the first devices running Android 4.1 "Jelly Bean," which Google also showed off at the conference. New features include voice-activated typing, notifications that are actually informative (you can call or text someone right from a notification, for example), and the nifty new Google Now service, which aims to help you out by planning your commute, suggesting restaurants, sending you meeting reminders, and the like.
What sets the Nexus 7 apart from the Kindle Fire? It's not just specs (more on that in a second); it's the tablet's integration with Google's suite of services as well as the Google Play store. Google Play has grown significantly over the past few months -- you can now rent or buy video (movies and TV episodes or full seasons), music, and magazine issues or subscriptions, with prices that match other online media places like Amazon or iTunes. And in addition to serving up content, the Nexus 7 also works seamlessly with Gmail, Gchat, and all the rest of Google's services -- the Kindle Fire doesn't have that kind of integration. (In fairness, though, Amazon's store has a broader array of music and movies, although Google is working hard to expand Play's offerings.)
---