What's new in Android 4.1 'Jelly Bean'
(Read article summary)
Google showed off Android 4.1 'Jelly Bean,' its latest phone and tablet operating system, at its I/O developers conference on Wednesday. Jelly Bean's new features include better support for voice commands, a smoother interface, a predictive keyboard, and Google Now.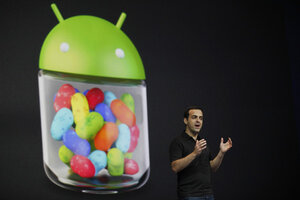 Stephen Lam/Reuters
With all the emphasis on hardware at the Google I/O keynote on Wednesday, it was easy to overlook the software powering the Nexus devices on display: Android 4.1 "Jelly Bean," the successor to the current "Ice Cream Sandwich" operating system.
The biggest new feature has to do with the way handles voice commands. You can now ask specific questions of Google, and it'll try to display the answer on a grey-bordered "Card," showing search results, maps, weather forecasts and the like depending on what question you asked. In some ways it's like Apple's Siri virtual assistant, except that the voice recognition takes place offline (the software itself can interpret queries, rather than streaming them up to Google's servers for analysis).
The other major feature is Google Now, a meta-service that combines calendar events, navigation, and a slew of other data and services to (ideally) make your life a little easier. Remember how Google instituted a single privacy policy across all its services a couple of months ago? Now that that's in place, the different apps can share data in all sorts of interesting ways. Early testers are calling it both super-useful and potentially creepy.
It works like this: Google Calendar knows you have an appointment coming up in an hour, so your phone checks your location against current traffic to figures out how long it'll take you to get there. Then it sends you a reminder at the time you'll need to leave to make it on time. Or, as you walk down the street, it'll automatically show you ratings for the restaurants you pass (as well as letting you know what dish each place is known for). Or, if you've got a flight scheduled, it'll tell you what terminal to leave from and whether your flight is delayed.
---