Google Maps heads indoors with walking directions for 17 Smithsonian museums
(Read article summary)
Google Maps adds all 17 of the Smithsonian Institution's museums to its growing list of 10,000 important indoor spaces.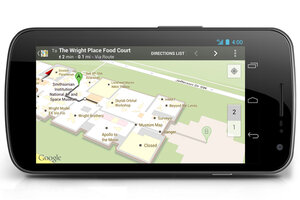 Google
Google has added indoor maps and walking directions to all 17 of the Smithsonian Institution's museums, the company announced in a blog post Tuesday.
Now you can use your smartphone or tablet to navigate the sometimes overwhelming galleries, arcades, and avenues of some of America's most important institutions.
Building on a project to map important indoor spaces begun in November, the additional maps include all 2.7 million square feet of the Smithsonian properties in and around Washington, D.C., from the Castle, as the main Smithsonian building is known, to the National Portrait Gallery to the zoo. Yep. Now you can use your Android-powered phone to move from the gorilla habitat to the coatimundis. (And who wouldn't, given the chance?)
To gain access online, users can search for the museums individually, or they can simply zoom into them from a Google Map of the area.
In addition to the Smithsonian museums, Google has also added San Francisco's de Young, the Philadelphia Museum of Art, the Cincinnati Museum Center, the Indianapolis Museum of Art and the American Museum of Natural History to the growing list of more than 10,000 important indoor spaces around the world that have been mapped. (These already ran the gamut from Japan's Narita International Airport to Caesar's Palace in Las Vegas to London's National Portrait Gallery.
---