A look at the original iPad prototype
(Read article summary)
Thanks to some legal actions, photos of "Prototype 035" -- possibly Apple's first iPad mockup -- were recently made public. Prototype 035, made between 2002 and 2004, is clunky by today's standards but shares a lot of design elements with the modern iPad.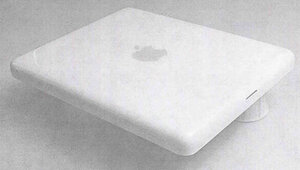 NetworkWorld
The iPad's appearance hasn't changed much since it was first introduced in 2010. Sure, the latest version has more power under the hood than the original, but the physical design has been more or less static. The iPad didn't just spring into existence as a 9.7-inch screen with a 4:3 aspect ratio and a home button; there had to be some earlier versions of the tablet that didn't make the cut, right?
Thanks to the ongoing patent disputes between Samsung and Apple, we've now got an idea of what the very earliest iPad mockup looked like. Tech site NetworkWorld uncovered some photos that were recently made public in a legal action, which show an early tablet model called "Prototype 035."
The device, created sometime between 2002 and 2004, is quite a bit taller and wider than the iPad we know today, and looks to be almost an inch thick. It's got a white plastic back that hearkens back to Apple's iBook line of laptops, and a headphone port on one corner. There's no home button, but the photos do show the now-ubiquitous 30-pin dock connector found on iPhones, iPads, and all but the earliest iPods. (The dock connector wasn't introduced until 2003, but Apple could've had the design nailed down in 2002, early enough to appear in this prototype.)
---