Google fined $22.5 million in Safari case for violating FTC deal
(Read article summary)
The FTC has levied a $22.5 million fine against Google. The charge: In tracking cookies on Apple's Safari browser, Google violated the terms of an agreement signed with the FTC last year.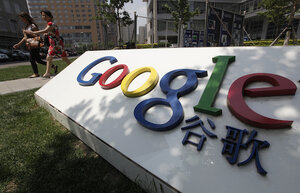 Reuters
In 2011, in the wake of a privacy flap over its Buzz platform, Google signed a consent decree with the FTC, which barred the Mountain View company from misrepresenting "the extent to which consumers can exercise control over the collection of their information." This week, Google agreed to pay $22.5 million for violating that settlement. It's the biggest such fine ever paid, the FTC said in a statement.
At issue is a series of cookies that Google planted on Safari last year. According to the FTC, Google used the cookies to track site visits within the DoubleClick advertising network. Crucially, Google is not being fined for implementing the code, but for misleading users who believed their clicks could not be logged by Google.
---