Ouya Kickstarter drive nets $8.5 million. What's next?
(Read article summary)
The team behind Ouya, an open-source video game console, has raised an astonishing $8.5 million. Completed consoles are expected in March.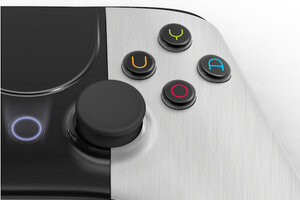 Ouya
Android 4.0-based gaming console company Ouya has raised $8.5 million on Kickstarter – approximately nine times the original goal of $950,000.
In a message to supporters, the Ouya team confirmed the end of the Kickstarter campaign, and promised to begin shipping completed devices by sometime in March.
"We are truly excited and blown away by the support: it's amazing how well an open, affordable, accessible games console has resonated with gamers and developers," Ouya chief Julie Uhrman told the Guardian earlier this week.
So what is Ouya, exactly? Well, think of it like an open-source Xbox 360 or PlayStation 3, but with the specs of a powerful smartphone not a powerful PC. The console, which will cost a hundred bucks, is designed to be hooked up to the TV; action is managed via a sleek, touch-screen enabled controller. But unlike the Xbox 360 and PS3, which are "closed" systems, any developer can create a game for the Ouya – in fact, the Guardian has reported, the whole thing will be completely hackable.
---