Japan judge dismisses Apple suit against Samsung
(Read article summary)
A week after Apple scored a major victory over Samsung, a similar suit has been tossed out by a Japanese court.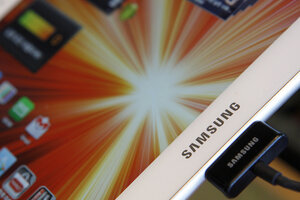 Reuters
You win some, you lose some.
A week after a California jury ordered Samsung to pay Apple approximately $1 billion in damages, a judge in Japan has dismissed a similar claim – also filed by Apple – against Samsung. According to the Washington Post, Tokyo District Judge Tamotsu Shoji ruled today that a media synchronization feature on Samsung tablets and smartphones did not violate Apple patents.
"The defendant's products do not seem like they used the same technology as the plaintiff's products so we turn down the complaints made by [Apple]," Shoji told the court.
The verdict was welcome relief for Samsung, which saw shares in the company temporarily slump in the wake of the Aug. 24 ruling in California. As the Financial Times points out, the iPhone has been the most popular smartphone in Japan for years, although the Samsung Galaxy line has more recently challenged the supremacy of the Apple handset. An adverse ruling would have hurt Samsung's clout in Japan.
---