Search engine wars: Microsoft invites Google to "Bing It On"
(Read article summary)
Microsoft claims that people preferred its Bing search engine to Google by a margin of almost 2 to 1 in a test. The company's new "Bing It On" campaign aims to convince people that Bing's search results really are more relevant than Google's.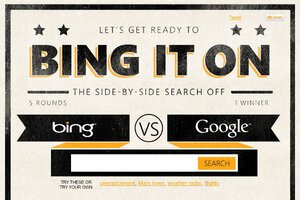 BingItOn.com
Pretend, for a minute, that you're Microsoft. You've long claimed that people prefer your search engine, Bing, to Google's juggernaut. But only 15 percent of online searches are coming through Bing, while Google's got a massive two-thirds dominance of the market. Search habits, apparently, die hard. What to do?
How about a search engine version of the Pepsi challenge?
Microsoft is doing exactly that with the launch of the "Bing It On" campaign this week. The company claims that people preferred Bing over Google by a margin of almost 2 to 1 in an independent test, and it wants to prove that its search results really are more useful to the public. Head over to BingItOn.com, and you'll be invited to compare side-by-side search results (for search strings of your own choosing, of course) and select the more relevant of the two without knowing which is which. Best of five searches wins.
The site doesn't give a running tally of the results of everyone's tests, but at least it's upfront about telling you which search engine you preferred after five rounds -- Microsoft apparently feels pretty strongly that people will actually choose Bing. Microsoft CMO Mike Nichols wrote in a company blog, "Our mission is to show people it's time to break the 'Google habit,'" adding that "Bing has reached a quality level that will make it easy to switch."
---