Microsoft to ring in Windows 8 with major launch event
(Read article summary)
Microsoft CEO Steve Ballmer promises Windows 8 will 're-imagine the world from the ground up.'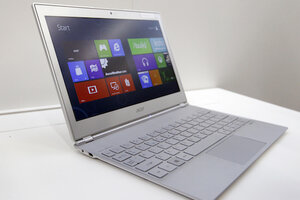 Reuters
Sure does feel like we've been talking about Windows 8 forever, doesn't it?
So here's a bit of good news: The long-awaited Microsoft OS will finally launch on Thursday, Oct. 25, at an event in New York City. Microsoft hasn't said much about what will happen at the event – you can get a look at the recently-released invite here – but expect a bunch of Windows 8 demos on tablets and PCs, and an exuberant keynote address from Steve Ballmer, Microsoft's CEO.
In fact, as he demonstrated in an interview with the Seattle Times, Ballmer is already framing the release of Windows 8 as a historic landmark for Microsoft.
---