Twitter's redesign: More photos for profile pages, and a new iPad app
(Read article summary)
Twitter unveiled its new look, which puts a heavy emphasis on photos and videos and nudges profile pages closer to a Facebook-like design. Mobile Twitter apps for the iPhone, iPad, and Android devices also support the new photo-centric approach.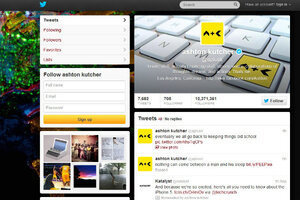 twitter.com/aplusk
Twitter CEO Dick Costolo unveiled the social media company's new design on Tuesday, and there's no point in beating around the bush here: Twitter looks a lot more like Facebook now.
The biggest design change is that pages now have a big header image at the top -- similar to Facebook's Timeline banner -- with a user's avatar superimposed over it. (Note that the new header won't replace the background image that lots of users employ; you can still paste a giant photo of a cat behind your tweets if you like.) The single-row photo stream is gone, too; it's been given prominence higher on the page and an extra row of real estate.
The facelift extends past Twitter's homepage to mobile apps for iPhone, Android, and iPad, the latter of which the company has apparently rebuilt from scratch. All of the new mobile apps include photo streams -- a feature that used to be limited to the site itself -- allowing users to flick through photos and enlarge them to fill the screen. The iPad app also lets you expand certain tweets for more context, like tapping an article link to read a summary or tapping a video to play it in fullscreen.
---