iPhone 5 targeted in Samsung's new legal attack on Apple
(Read article summary)
iPhone 5 violates Samsung patents, alleges the Korean company. Samsung hopes to block sale of the iPhone 5 in the US.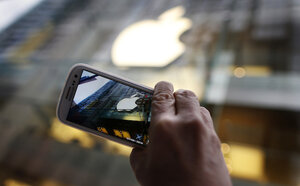 Reuters
Back in late August, a jury in California ruled that Samsung had infringed on a range of Apple patents, and ordered the Korean tech giant to fork over a hefty $1 billion in damages. Although lawyers for Samsung have vowed to appeal – and according to some expert onlookers, Samsung may have a decent shot at getting the verdict overturned – the case was widely viewed as a "major win" for Apple.
Then in September, Samsung struck back, vowing to add the iPhone 5 to its lawsuit if the handset used LTE technology (Samsung says it patented aspects of the LTE connectivity tech used by Apple).
Well, the iPhone 5 does have LTE technology, and so yesterday, Samsung went through with its threat, tacking the iPhone 5 onto a suit previously filed in the United States District Court for the Northern District of California.
---