iPad Mini set to debut Oct. 23, arrive on doorsteps Nov. 2: report
(Read article summary)
Apple will likely take the wraps off the iPad Mini at an event in Calif. on Tuesday, Oct. 23. The Mini would hit store shelves a little more than a week after that.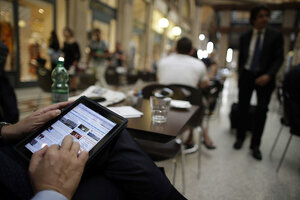 Reuters
All signs point to an iPad Mini, possibly as soon as soon as Nov. 2.
As we noted earlier this week, Apple has already sent out invitations for an Oct. 23 event at the California Theater in San Jose. Apple hasn't specified exactly what product it will show off at the press conference, although it doesn't take much to read between the lines. The invitation, after all, is emblazoned with a single line of text: "We've got a little more to show you."
Emphasis on the "little."
"We're now hearing that [the iPad Mini, or whatever Apple calls it,] will ship a week and a half after that unveiling," Darrell Etherington of TechCrunch writes today.
That makes sense: Nov. 2 was the same date mentioned by Fortune Magazine and 9to5mac.com. Moreover, a late October unveiling and an early November launch would position the iPad Mini perfectly for the upcoming holiday shopping season.
---