FTC cuts off 'Rachel from Cardholder Services'
(Read article summary)
Five companies behind the 'Rachel from Cardholder Services' scheme and other credit card robocalls were shut down Thursday, the FTC announced. The FTC estimated that the companies had defrauded customers out of more than $30 million by promising to lower credit card interest rates in exchange for an up-front fee.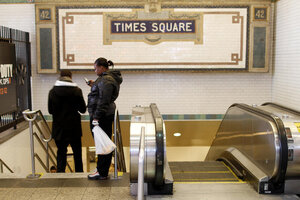 Carlo Allegri/Reuters
Maybe you've gotten this call before, or one like it: "Hi, this is Rachel from Cardholder Services ... contact us concerning your eligibility for lowering your interest rates."
The call, according to the Federal Trade Commission, is a scam. "Rachel" won't do anything but transfer you to a telemarketer who will promise to lower the interest on your credit card -- in exchange for an upfront-fee somewhere between several hundred dollars and $3,000.
The FTC is putting a dent in those automated call. The agency announced on Thursday that it has shut down five robocall companies that participated in the "Rachel" scheme. The companies had defrauded more than 30,000 customers for a haul of more than $30 million by promising nonexistent services, the FTC said at a Chicago press conference.
The five companies are all facing complaints in US District court, where they're accused of making deceptive sales claims and violating robocalling laws. (In some cases, robocalling is okay -- such as for political campaigns and charity drives -- but credit offers aren't allowed.) The law also prohibits telemarketers from charging people money up front in exchange for a promise to reduce debt.
"At the FTC, Rachel from Cardholder Services is public enemy number one," said FTC Chairman Jon Leibowitz in the FTC's press release.
---