Is Microsoft building an Xbox Surface gaming tablet?
(Read article summary)
A gaming-specific Xbox Surface tablet is reportedly on the way from Microsoft.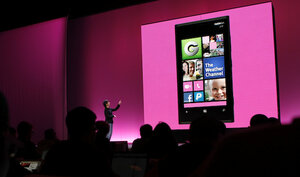 Reuters
Microsoft is developing a gaming-specific, 7-inch tablet called the Xbox Surface.
That's the word today from the folks at The Verge, who report that the Xbox Surface will be equipped with "a custom ARM processor and high-bandwidth RAM designed specifically for gaming tasks."
According to The Verge, the device would not run a full Windows RT build, but a custom Windows "kernel" that also supports messaging and apps. Microsoft, unsurprisingly, has declined to comment.
Still, we buy it. The Microsoft Xbox 360 is one of the most popular gaming platforms in history – an astonishing 70 million units have been sold since the console debuted in 2005. Meanwhile, the Microsoft Surface tablet, which launched late last month, has received a warm critical reception (we'll have to wait on sales figures). It makes sense that Microsoft would want to join the two worlds and build a gaming tablet.
---