Bram Stoker books: How 'Dracula' created the modern vampire
(Read article summary)
Before there was 'Twilight' or 'True Blood,' there was Bram Stoker. Books like 'Dracula' defined the genre for a century to come.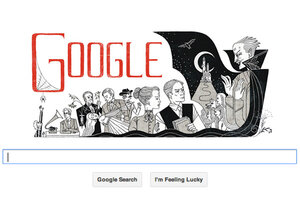 Google
The Google homepage on Thursday depicts a sinister-looking count, a castle on a lonely hill, and a fainting woman surrounded by concerned suitors. The doodle, of course, is an homage to the 1897 novel "Dracula," and its Irish author, Bram Stoker, who would have turned the ripe old age of 165 today. So who was Bram Stoker, exactly?
Only the progenitor of the modern vampire craze. Long before there was "True Blood," "Vampire Diaries," or "Twilight" – with its sophisticated "vegetarian vampires" – there was Stoker and his most famous creation: a long-toothed, blood-thirsty Transylvanian transplant.
Abraham Stoker was born on Nov. 8, 1847, in a suburb of Dublin called Clontarf. He was the third of seven children. Although he had struggled with illness as a kid, by the time he got to Trinity College, in Dublin, Stoker was a swaggering, flush-cheeked bon vivant – he joined the debating squad, became president of the University Philosophical Society, and apparently excelled at soccer and track and field.
---