Could Apple-supplier Foxconn open a plant in the US?
(Read article summary)
A new report alleges that Foxconn, the Taiwanese tech manufacturer that builds parts for Apple iPads and iPhones, is eyeing the US.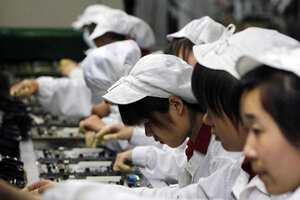 Kin Cheung/AP/File
Taiwanese tech manufacturer Foxconn could open a series of plants in the US.
That's the word today from DigiTimes, which reports that Foxconn, a major supplier to Apple and other tech giants, is already conducting "evaluations" in Los Angeles and Detroit. Some caveats: DigiTimes sourced its article only to anonymous "market watchers," and Foxconn isn't saying a word. Furthermore, DigiTimes, while exceptionally well plugged-in to the tech industry in Asia, has a less than stellar track record.
To quote Henry McCracken of Time, who recently fact-checked a bunch of DigiTimes dispatches, "when it comes to the big Apple stories, [DigiTimes is] wrong most of the time. Sometimes wildly so."
---