Nintendo Wii U review roundup
(Read article summary)
The Nintendo Wii U launched over the weekend, and while critics generally like the new Nintendo machine, a few key features fall short.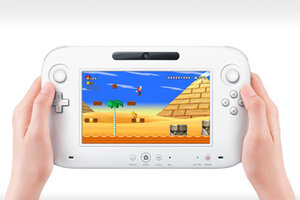 Nintendo
On Sunday, after months of hype and speculation, Nintendo finally unveiled the Wii U, the successor to the top-selling Wii video game console.
The device comes in two versions: a standard edition, with 8 gigabytes of storage, for $299; and a "deluxe" package, with 32 gigabytes of storage and the Nintendo Land game, for $349. The big selling points on the Wii U are the HD graphics – the original Wii lagged woefully behind the Microsoft Xbox 360 and the Sony PlayStation 3 in this regard – and the touchscreen GamePad controller.
So how does the Wii U stack up to other competitors in the console market? Well, let's go to the reviews.
First up, the controller. It's big, admits David Pierce of The Verge, but it actually handles pretty well.
"[T]hanks to ridges underneath your fingers in the back is quite comfortable to hold as long as it's in both hands – it's a little awkward in one hand, especially when you hold it in portrait mode," Pierce writes, adding that "the whole thing feels a little cheap and flimsy (a common occurrence with Nintendo consoles) though it's plenty sturdy in use. The build quality is one of many sacrifices Nintendo seems to make in the name of creating a lighter, smaller GamePad."
---