Tim Cook describes bold future for Apple. But cheaper iPhones? Maybe not.
(Read article summary)
At Goldman-Sachs tech conference, Apple CEO Tim Cook tiptoes around rumors of a cheaper iPhone, applauds Apple stores, and provides some insight on the future.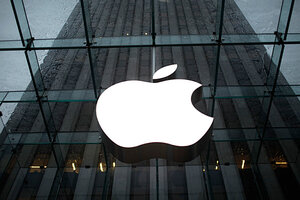 Mike Segar/Reuters
Apple CEO Tim Cook admits that he rarely has bad days but when he does, Mr. Cook takes a trip to the Apple Store.
"It's a feeling like no other," Mr. Cook announced at the Goldman-Sachs Technology and Internet Conference on Feb. 12. "I'm not even sure 'store' is the right word anymore. They've taken on a role much broader than that."
And there might be some truth to what Cook says. Asymco analyst Horace Dediu published charts today that illustrate Cook's point. Apple retail stores pull in a little over $6,000 in sales per square foot. That ratio is huge. The runner-up, Tiffany & Co., came in second with less than half that number -- just $3,000 in sales per square foot of retail space.
"They are the face of Apple for almost all of our customers," says Cook. "I've never been more bullish about innovation at Apple."
On the topic of innovations, the Apple rumor mills quickly picked up the often-repeated whispers of a cheaper iPhone. Cook neither dismissed nor confirmed the rumor, instead insisting that Apple's "north star" has always been great products. This mantra, according to Cook, means that Apple is looking at ways to make cheaper products without sacrificing quality. Cook's example of this unwillingness to lose quality was to bring up the iPad. Critics had long asked Apple for a MacBook with a price tag below $1,000. After concluding that the company would be unable to make that happen, Apple created the iPad, he says.
---