Sony's PlayStation 4: What you need to know
(Read article summary)
Sony revealed the PlayStation 4 last night, in what turned out to be a fulfilling and unfulfilling night.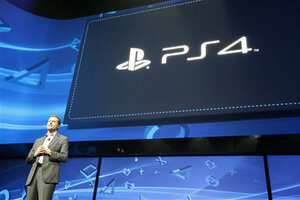 Sony Computer Entertainment Inc./PRNewsFoto/AP/FILE
Sony's had a rough few years. The company has lost money across several industries; PlayStation lost many American gamers to the Xbox. But as of last night, Sony is attempting to get it all back. In a New York debut, Sony unveiled the PlayStation 4. Well, some of it.
In what turned out to be a rather curious night for tech fans and journalists, Sony announced the PS4 but never actually showed the console. It instead focused on the newest additions to the console, the re-vamped controller, and the games.
"Today we will give you a glimpse into the future of play," Sony Computer Entertainment head Andrew House told the crowd Wednesday night.
Sony's announcement of the PS4 comes months before the Electronic Entertainment Expo (E3), the spring electronics show where the computer and video game industry shows off its upcoming products. Yet, Sony maintained some secrecy.
Sony kept mum on the console's looks, the price tag, and a specific release date ­– mentioning a holiday-season release. According to CNET, this is an unprecedented move. Typically consoles are first exhibited at E3, with an almost-finished version seen the next year, which is then followed by the actual release.
---