General Motors gives Facebook another try
(Read article summary)
After a very messy breakup last year, GM has announced that it will test-run ads on Facebook once again. The company broke away from the social-networking giant last May, just 10 days before Facebook's IPO.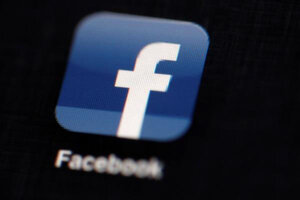 Matt Rourke/AP
"If you love something, set it free; and if it comes back, then it's yours." That proverb seems to ring true for General Motors and Facebook. GM has announced that it will test-run advertising with Facebook after their very public break-up last May, just before Facebook's initial public offering.
It was very bad timing for Facebook -- a major company pulling out $10 million just before its IPO. But now, less than a year from the split, GM and Facebook have reunited to advertise Chevrolet's subcompact car, the Sonic. The Sonic is being marketed toward young people.
GM pulled its paid advertisement at the behest of its former Chief Marketing Officer Joel Ewanick. Mr. Ewanick stopped paid ads with Facebook under the claim that there was no proof that such ads were more successful than the free GM brands pages.
However, many things have changed with Facebook since then. In January, reports were published that Facebook has become the most used mobile application in the United States. Close to a quarter of the time that Americans spend using mobile apps is taken up just on Facebook. It comes as no surprise, then, that GM will run its advertisements solely through Facebook's mobile site.
"It's almost inevitable that they would be back," says Brennan White, directing manager of Pandemic Labs in Boston. "Facebook is the dominant mobile application. We're seeing a huge increase in Facebook advertising dollars and Facebook mobile advertising."
Mr. White explains that Facebook has put considerable effort into "cracking the mobile nut, so to speak." Big companies like GM can better target potential customers if they pair up with Facebook, he says.
So, what else caught GM's attention?
---