Apple: Lion OS draws inspiration from iPad
Apple: Lion OS X will borrow many of the lessons that the company learned from its massively successful iPhone and iPad.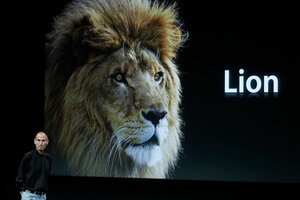 AP
Apple's iPhone and iPads have been such hits that the company is now looking for ways to bring some of their cachet to its laptops and desktops.
Apple Inc. offered glimpses on Wednesday of an updated Mac operating system, called Mac OS X Lion. The company highlighted features that borrow from the lighter-weight iOS that runs on its mobile gadgets.
The company also unveiled two new versions of its MacBook Air ultralight laptops.
Apple CEO Steve Jobs drew laughs when he introduced the new models by saying, "We asked ourselves: What would happen if a MacBook and an iPad hooked up?"
Lion - Apple uses names of big cats to differentiate between versions - is expected to arrive next summer. Lion will include a built-in store selling Mac software, similar to the iTunes store that sells apps for the iPhone, iPad and iPod Touch.
---