Japan earthquake: How Tokyo got an 80-second head start
Thanks to the latest technology, Tokyo received early warning of the Japan earthquake. But tsunamis require more time to prepare for, so scientists are investigating ways to speed up computer alerts without sacrificing accuracy.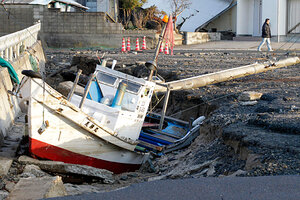 Yuriko Nakao/Reuters
Residents of Tokyo likely had about 80 seconds of warning before a devastating quake rumbled through the city after striking 373 kilometers away, off Japan's northeast coast, thanks to a new early warning system. But tsunami alerts take longer to generate, giving just minutes of warning before the waves first struck the coast—a reflection of the differing technologies needed to detect earthquakes and calculate their impacts, researchers say.
Japan has the world's most advanced earthquake early-warning system, with more than 1,000 seismographs scattered over the country. Collectively, they detect tremors and allow for brief advance warnings not only to vulnerable sectors like railroads and utilities—so they can slow down high-speed trains and shut off gas lines—but also to the public via television, Internet and text-message. "This hits probably what I would consider the best prepared country in the world for earth quake preparedness," says Stephane Rondenay, a geophysicist at MIT.
The seismometers detect the first evidence of a quake—P-waves, which have short wavelengths and generally do little damage—and calculate the location of the epicenter. The longer-wavelength and far more damaging S-waves come next, usually within seconds.
RELATED: The 10 nations most reliant on nuclear power
The quake struck at 5:46 GMT. It would have taken about ten seconds for sensors to detect enough signals to conclude the quake was serious and issue the alerts. Since the more damaging secondary waves travel at 4 kilometers per second, it would have taken them about 90 seconds to travel the 373 kilometers to Tokyo, Rondenay says.
---