iPad 2 in kindergarten classrooms: A good idea?
Schools are excited about putting the Apple iPad into classrooms. But how young is too young?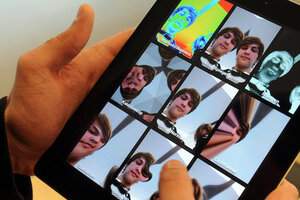 Newscom
Move over, finger paint. A school district in Maine recently approved a $200,000 initiative that would give each of its 285 kindergarten students a new hands-on tool: Their very own iPad 2.
In what they are calling "a revolution in education," the Auburn, Maine, school district will be bringing the $499 Apple tablet devices into kindergarten classrooms starting in the fall with the aim of increasing literacy rates from 62 percent to 90 percent.
This isn't the first time Maine has become an early tech adopter in its educational systems. In 2002, it became the first state to give out laptop computers to its middle school students and later expanded the program to high schoolers as a part of a move to boost literacy.
Some critics have blasted the iPad plan — saying the school district should not putting high-tech hardware in the hands of kindergartners and that they shouldn't be investing a large sum of money, especially amid budget cuts that could take away teacher instruction.
---