Facebook lawsuit: Zuckerberg says evidence is phony
In Facebook lawsuit, Mark Zuckerberg calls shenanigans on Paul Ceglia's evidence. Will this derail the Ceglia / Facebook lawsuit?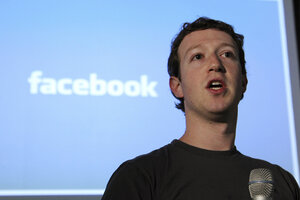 Norbert von der Groeben/Reuters
An alleged contract and emails that a New York man says entitle him to a huge stake in Facebook are forgeries, the online social network's founder Mark Zuckerberg said.
In a filing in the U.S. District Court in Buffalo, New York, Thursday, Zuckerberg said he has declared under oath that he neither signed the alleged contract with Paul Ceglia, nor wrote or received any related emails.
He asked a federal judge to order Ceglia to immediately turn over the alleged original contract and emails, and for permission to inspect Ceglia's computers.
``Zuckerberg and Ceglia never discussed Facebook and they never signed a contract concerning Facebook,'' the filing said. ''The contract is a cut-and-paste job, the emails are complete fabrications, and this entire lawsuit is a fraud.''
Christopher ``Kip'' Hall, a partner at DLA Piper representing Ceglia, did not immediately return requests for comment.
Thursday's filing escalates the stakes as Ceglia, a wood pellet salesman from Wellsville, New York, tries to show he contracted in 2003 for 50 percent of Zuckerberg's interest in what became Facebook, which is privately held.
Forbes magazine in March estimated Zuckerberg's net worth at $13.5 billion. Analysts have said Facebook could be worth $70 billion should it go public, perhaps in 2012.
---