Apple's 'natural scrolling' feels horribly unnatural. Here's why.
Opinion: Apple put 'natural scrolling' into Mac OS X Lion. Ellis Hamburger wishes it hadn't.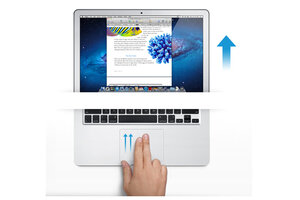 Apple
I was really excited to take the virtual gift wrap off of Mac OS X Lion when I downloaded it last night.
The "app" finished downloading from the Mac App Store, installed seamlessly, and popped me right back into the Mac OS X I know and love.
Except one huge glaring thing is different: scrolling is backwards.
In Lion, when you take two fingers and move them up on your MacBook's trackpad, the content moves up with it.
If you don't yet have Lion, move your two fingers up to scroll right now, and see which way your content goes. Same for you Windows people out there. It goes down, and that's the way it's been for a decade.
We all knew this was coming. Apple big wigs have been touting natural scrolling as the "right way" to be doing scrolling, but then why didn't they do it that way in the first place?
They didn't do it in the first place for one simple reason: scroll wheels on mice came first. When you scroll down on a mouse's scroll wheel, content moves up on the page. Using scroll wheels on mice for years has trained us to use the "down motion" with our fingers to indicate that we want our content to move upwards and off the screen.
When Apple invented two-finger scrolling, they followed this convention.
On an iPhone or iPad, natural scrolling works because you are touching the screen and watching the content move under your fingers. Like sliding a piece of paper across a desk, you can move content on a web page in Mobile Safari.
If stuff would move the opposite direction, it would feel ridiculous, because you're actually touching it.
---
Follow Stories Like This
Get the Monitor stories you care about delivered to your inbox.