RAZR: First impressions reveal slim, sturdy, powerful smartphone
RAZR: The new Droid RAZR performs impressively, but some buyers might be turned off by the lack of Ice Cream Sandwich software.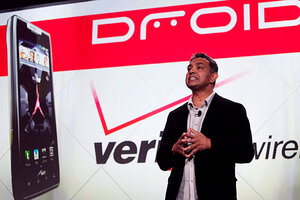 Mark Lennihan/AP
If you recently purchased a Droid Bionic, we have one thing to say: Oops. The Droid RAZR is better in pretty much every way. We just went hands-on with this Android superphone, coming to Verizon Wireless for $299 in November, and were blown away by not just the thinness of the design but the beauty of its Super AMOLED Enhanced screen.
As we found out, Super AMOLED Enhanced means that the Droid RAZR's display is sharper than what you'll find on the Samsung Galaxy SII (960 x 540 vs. 800 x 480 pixels) but it also has technology that optimizes battery life. Speaking of battery life, we got a quick demo of the Smart Actions software, which can save you additional juice by suggesting you make changes if the phone sees you're running out of juice early every day. You can go in and set rules to help save you time, too, such as starting music playback when you plug in headphones—great for working out.
Check out our hands-on video and photo gallery below. The Droid RAZR definitely gives the Samsung Galaxy S II a run for its money in the design department. The Kevlar back and diamond cut finish give it a sturdier and more premium look and feel, and we love that the back has a good grip so the handset won't slip out of your hands. The power button is on the right side for easy access, and you'll find the microUSB and HDMI ports up top along with the headphone jack.
---