iPhone 4s problem: First the battery, now Siri?
iPhone 4s problem related to the battery then leads to another issue, this time with Siri. Apple plans to fix the iPhone 4s problem quickly, but does this ruin the company's "it just works" mantra?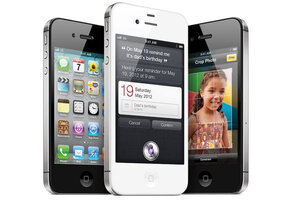 Apple/Newscom
Owners of those brand new iPhone 4S's have been reporting problems. A glitch was leading to rapid battery drain for some users; while Siri, the much-touted "virtual personal assistant," went silent for others.
The short battery life problem first came to the fore late last week, with some users reporting a battery life of just about 12 hours. This week, Apple confirmed: "A small number of customers have reported lower than expected battery life on iOS 5 devices. We have found a few bugs that are affecting battery life and we will release a software update to address those in a few weeks."
A few weeks? In the meantime, various users have been offering each other support--in a sort of fellowship of mutual customer service. Try turning off location services, tips one. Switch off Wi-Fi, counsel others. One theory has it that iOS5 has the iPhone constantly querying the user's time zone via GPS, thus draining the battery. "[I]t appears that iOS 5′s GM release introduced a bug that causes the Setting Time Zone function to keep the location tracking circuitry running constantly, draining battery power considerably," explained blogger Oliver Haslam. "Switching it off may mean that your iPhone will no longer set its own time zone when you travel, but that's a small price to pay for having your iPhone last more than 12 hours on a full charge."
On Thursday, another set of iPhone 4S woes developed: Siri, the phone's central selling point, went quiet for some users. TechCrunch rounded up a suite of tweets demonstrating the problem was somewhat widespread. It added that while Siri was a beta product, and "this is what happens to beta products," different rules perhaps ought to apply when your beta product is treated, in your advertisements, as the very heart of your new phone. You might recall a certain video?
---