Cell phone ban for all drivers nationwide, suggests NTSB
Cell phone ban should prohibit any driver from calling or texting while behind the wheel, except for emergencies, says NTSB. But will states approve such a sweeping cell phone ban?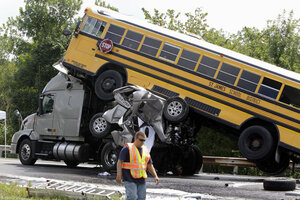 Jeff Roberson/AP/FILE
States should ban all driver use of cell phones and other portable electronic devices, except in emergencies, the National Transportation Board said Tuesday.
The recommendation, unanimously agreed to by the five-member board, applies to both hands-free and hand-held phones and significantly exceeds any existing state laws restricting texting and cellphone use behind the wheel.
The board made the recommendation in connection with a deadly highway pileup in Missouri last year. The board said the initial collision in the accident near Gray Summit, Mo., was caused by the inattention of a 19 year-old-pickup driver who sent or received 11 texts in the 11 minutes immediately before the crash.
The pickup, traveling at 55 mph, collided into the back of a tractor truck that had slowed for highway construction. The pickup was rear-ended by a school bus that overrode the smaller vehicle. A second school bus rammed into the back of the first bus.
The pickup driver and a 15-year-old student on one of the school buses were killed. Thirty-eight other people were injured in the Aug. 5, 2010, accident near Gray Summit, Mo.
About 50 students, mostly members of a high school band from St. James, Mo., were on the buses heading to the Six Flags St. Louis amusement park.
The accident is a "big red flag for all drivers," NTSB chairman Deborah Hersman said at a meeting to determine the cause of the accident and make safety recommendations.
---