Stratolaunch plane could make space tourism affordable
Stratolaunch plane, an enormous aircraft, will be a flying launchpad for space flights. Could this Stratolaunch plane turn extraterrestrial tourism into an everyday affair?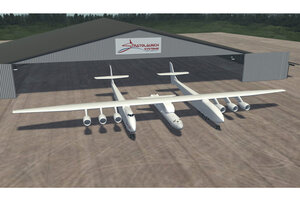 Strautolaunch Systems/Artist rendering/AP
The tycoons of cyberspace are looking to bankroll America's resurgence in outer space, reviving "Star Trek" dreams that first interested them in science.
Microsoft co-founder Paul Allen made the latest step Tuesday, unveiling plans for a new commercial spaceship that, instead of blasting off a launch pad, would be carried high into the atmosphere by the widest plane ever built before it fires its rockets.
He joins Silicon Valley powerhouses Elon Musk of PayPal and Jeff Bezos of Amazon.com Inc. in a new private space race that attempts to fill the gap left when the U.S. government ended the space shuttle program.
Musk, whose Space Exploration Technologies will send its Dragon capsule to dock with the International Space Station in February, will provide the capsule and booster rocket for Allen's venture, which is called Stratolaunch. Bezos is building a rival private spaceship.
---
Follow Stories Like This
Get the Monitor stories you care about delivered to your inbox.