'Cyborg' allegedly attacked over camera implants
"Parts of me started shutting down," says professor and self-proclaimed cyborg after an alleged assault at a McDonald's in Paris.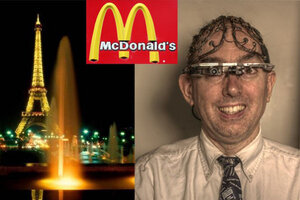 Steve Mann/LAPTOP Mag
Earlier this month, human cyborg and University of Toronto professor Steve Mann, claims he was attacked and kicked out of a Paris McDonald's after employees objected to his headset and its ability to record photos and videos of his experiences.
"I'm not sure why the perpetrators attacked, but 'Perp. 1' [Mann's name for one of his assailants] did mention about cameras not being allowed," he told us in an exclusive email interview. Mann was unavailable for a phone call because his iPhone was also damaged in the alleged attack.
Though augmented reality headsets like Google's Project Glass have just started making headlines this year, Mann has been wearing his own home-brewed "EyeTap Digital Glass" computers every day since the early 1980s. The current generation EyeTap, which runs on customized WearComp OS, captures images at 120 frames per second in 1080 x 1920 resolution, but according to Mann, these images aren't stored permanently.
"It merely delays rather than records, but when [the computer was] damaged the leftovers were recovered," he said. "In this sense Perp 1 [the person who allegedly assaulted Mann] was the person who took all the pictures in the last hour or so, by causing the computer to be broken."
Mann told us that on July 1st, he, his wife, and their two children were in line to purchase food at the Paris McDonald's when an employee approached and informed them that cameras were not allowed in the establishment. After Mann presented the employee with a doctor's note he carries with him that states he needs to wear his headgear, the employee let him through and a cashier took his order.
---