CES 2013: Panasonic unveils 56-inch OLED TV
At CES 2013, Panasonic revealed the largest OLED TV to date. This 56-inch set dwarfs previous OLED TVs, which were mostly on the small end.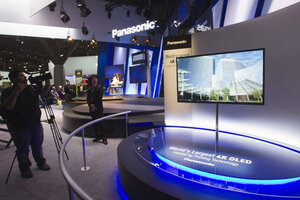 Steve Marcus/Reuters
Panasonic Corp, in a display of technological one-upmanship with its South Korean rivals, unveiled a prototype of the world's largest OLED screen on Tuesday.
The half-inch thick, 56-inch television, based on organic light-emitting diode technology, is a mere inch bigger than ones offered up by Samsung Electronics and LG Electronics a year ago in Las Vegas. The technology in theory allows for thinner screens that consume less power.
Japan's Sony Corp, which is cooperating with Panasonic in OLED technology, on Monday unwrapped its own 56-inch ultra high-definition model.
Sony on Monday also said it will widen its range of ultra high-definition LCD sets to three this year, as it stakes out its territory in next-generation TVs.
LG, which has started to take orders for its thin OLED screens, plans sales in the United States of a $12,000, 55-inch model beginning in March, making it the first company to commercialize the new technology.
---