Firefox enters the smart-phone industry, challenging Google, Apple
Mozilla's Firefox OS is off to a solid start with the support of 13 wireless-service providers worldwide. But can a Firefox phone compete with Apple and Google?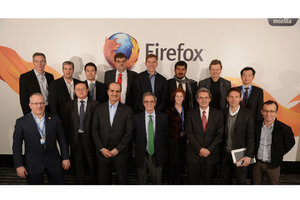 Mozilla/AP
Mozilla, makers of the popular Firefox Internet browser, is preparing to challenge Google and Apple's grip on smart-phone software.
A new Firefox operating system for mobile devices will be released in July after winning the backing of 13 wireless service providers around the globe, including Spain's Telefonica, China Unicom, and America Movil.
Mozilla is betting there's room for a software developer-friendly mobile platform alongside Apple's and Google's Android, which together power the majority of mobile devices on the planet.
The new software is based on open Web standards and is capable of operating on devices with much lower hardware requirements than today's existing crop of smart phones, according to Mozilla.
Because the Firefox OS is open-source and Web-based, third-party developers will be free to sell mobile applications without needing to share revenue with Apple or Google.
"There's a strategic imperative for the industry to have another OS that really is open and supports choice and competition," said Mozilla's senior vice president of products, Jay Sullivan.
---