Fleeting access to social media in Iran due to "technical problems," says state official
Brief access to social media sites in Iran on Monday sparked debates that the Iranian government might be liberalizing its Internet policies, but the country's firewalls that block sites like Facebook and Twitter were back in place on Tuesday.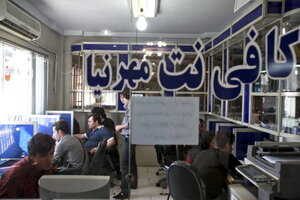 Ebrahim Noroozi/ AP Photo
Iranians had a few hours access to Facebook and Twitter before a Web firewall went back up by Tuesday and Tehran scotched talk of new Internet freedoms by blaming a technical glitch for the brief opening of access.
Late on Monday, several people in Iran found they could log in to their accounts on the U.S.-based social media sites without using techniques to circumvent blocks on Twitter and Facebook that the state imposed four years ago, during a clampdown on the biggest protests since the Islamic revolution.
That prompted speculation that it might herald a broader easing of censorship under President Hassan Rouhani; last month, he succeeded Mahmoud Ahmadinejad, whose re-election in 2009 sparked the demonstrations, in which social media played a part.
However, access was being blocked again on Tuesday and an official involved in controlling Internet usage said the brief lifting of the embargo at some Iranian Internet service providers was probably caused by a technical malfunction.
"The lack of a filter on Facebook last night was apparently due to technical problems and the technological committee is investigating this issue," Abdolsamad Khoramabadi, secretary of a state panel that filters sites, told Iran's Mehr news agency.
---