What the future of the auto industry will look like
Surging demand for cars in rapidly growing nations will mean a robust car industry in 20 years. The US will have a piece of it – though smaller than today – and the models it turns out will be much greener as the iconic industry reinvents itself.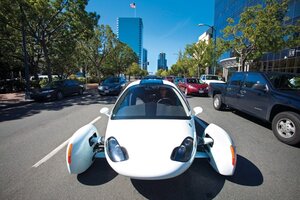 Courtesy of Aptera
Washington; and Anderson, Ind.
John Waters is leaning against a vehicle that looks like a delivery van as imagined by Pixar Animation. The IDEA – that's its name – is blocky, yet curved, with wheel skirts and a little upswoop at the back that adds attitude. You can almost hear it speaking in a chirpy cartoon voice.
Inside IDEA's silver sheet metal is plug-in hybrid technology that will power it an estimated 100 miles on a gallon of gas. If Mr. Waters has his way, thousands of these cuddly vans will soon be double-parked all across America, blocking travel lanes while their drivers wait for someone – anyone! – to sign for these darn packages, please.
Years ago Waters worked on General Motors' legendary EV1 electric car program. Now he's president and CEO of Bright Automotive, an Anderson, Ind., start-up that's recruited many EV1 veterans to help develop a new generation of hybrid trucks and cars.
"It's the wealth of experience of our people that will make this work," he says.
One hundred and one years after the debut of the Model T, the automobile – and the iconic industry that produces it – may be on the cusp of changes as profound as any ever wrought by Henry Ford.
Detroit is in crisis. The Big Three is no more. In the wake of recession, GM's and Chrysler's bankruptcies, and Chrysler's merger with Fiat, the traditional Michigan-based automakers now might better be called the Medium Two and One-Half.
---