Hologramlike performers hit the stage – and airport, and drugstore
Meet Carla, a new kind of visual aide. Hologramlike projections aren't just for concerts: This one helps travelers.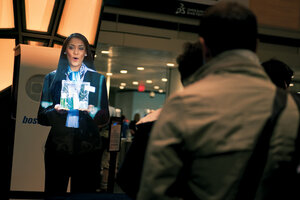 Joanne Ciccarello/Staff
Travelers flying out of Boston's Logan International Airport may have met its newest assistant, Carla. She's upbeat, informative – but not human.
This hologramlike virtual assistant stands by one of Logan's checkpoints, explaining the rules for passing through security. As she bops through each regulation, pictures of cellphones and toiletries (neatly packed into plastic bags) appear above her hands. After the two-minute spiel, Carla repeats the message in Spanish.
"It grabs people's attention," says Edward Freni, director of aviation for Logan. "They look at her. They listen, hopefully. Maybe it makes [security screenings] a little easier."
As projection technology improves, airports have become the latest industry to experiment with virtual helpers. At least five US airports have called in digital assistants, part of several pilot programs designed to calm travelers and make airports more efficient.
Each airport avatar has its own message. Carla focuses on security. Washington Dulles International Airport has Paige, who rolls through more general information and tosses in the occasional history lesson. New York's three major airports will introduce virtual assistants this summer to help people find their way around.
Carla and Paige cannot answer questions. They're simple video recordings rear-projected onto a sheet of gray acrylic that's cut in a vaguely human shape. This setup gives the resulting image a 3-D, hologram effect (unless you look from the side). Logan paid $26,000 for the equipment, according to Mr. Freni. The virtual assistant did not replace any human staff members.
---